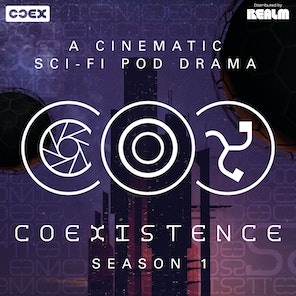 ---
NEW!
Listen ad-free in any app
A Realm Unlimited benefit
---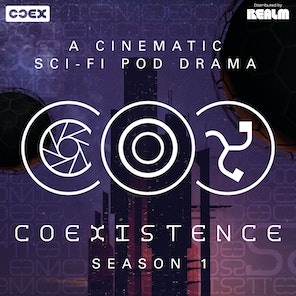 ---
NEW!
Listen ad-free in any app
A Realm Unlimited benefit
---
Coexistence is a sci-fi mystery thriller series rating as a #1 science fiction podcast on Apple Podcasts UK in January 2020, and nominated for Best Fiction in the British Podcast Awards 2020.

Earth's shattered future. Humanity's natural resources have been exhausted. When our planet is devastated by an atomic cataclysm, a new life emerges for a cross-section of humanity within the walls of a towering megastructure known as Tier City. A self-appointed governing body of world-leaders, called The Universal Council, control this New Earth. Tier City residents are force-fed Network propaganda by an influencer known only as The Preacher.

Rachel is a young drone delivery pilot with ambitions to escape the confinement of her accommodation pod by becoming an interstellar pilot. As civilisation collapses, a select number of humans are being evacuated from Earth in off-world vessels called Bio Domes. Meanwhile, a rebel faction is plotting to attack the domes in a last ditch act of defiance.

Can Rachel guide the last remnants of society in their struggle for survival, or will the clash of coexistence between Mecha, rebel faction, and extraterrestrial result in our total extinction?

A Coex Studios production, created by Colin Carvalho Burgess and Dominic Nangle.
Heard Coexistence on Realm yet? Join me: https://realmfm.page.link/9WbnpdHRNMgdQfdM7