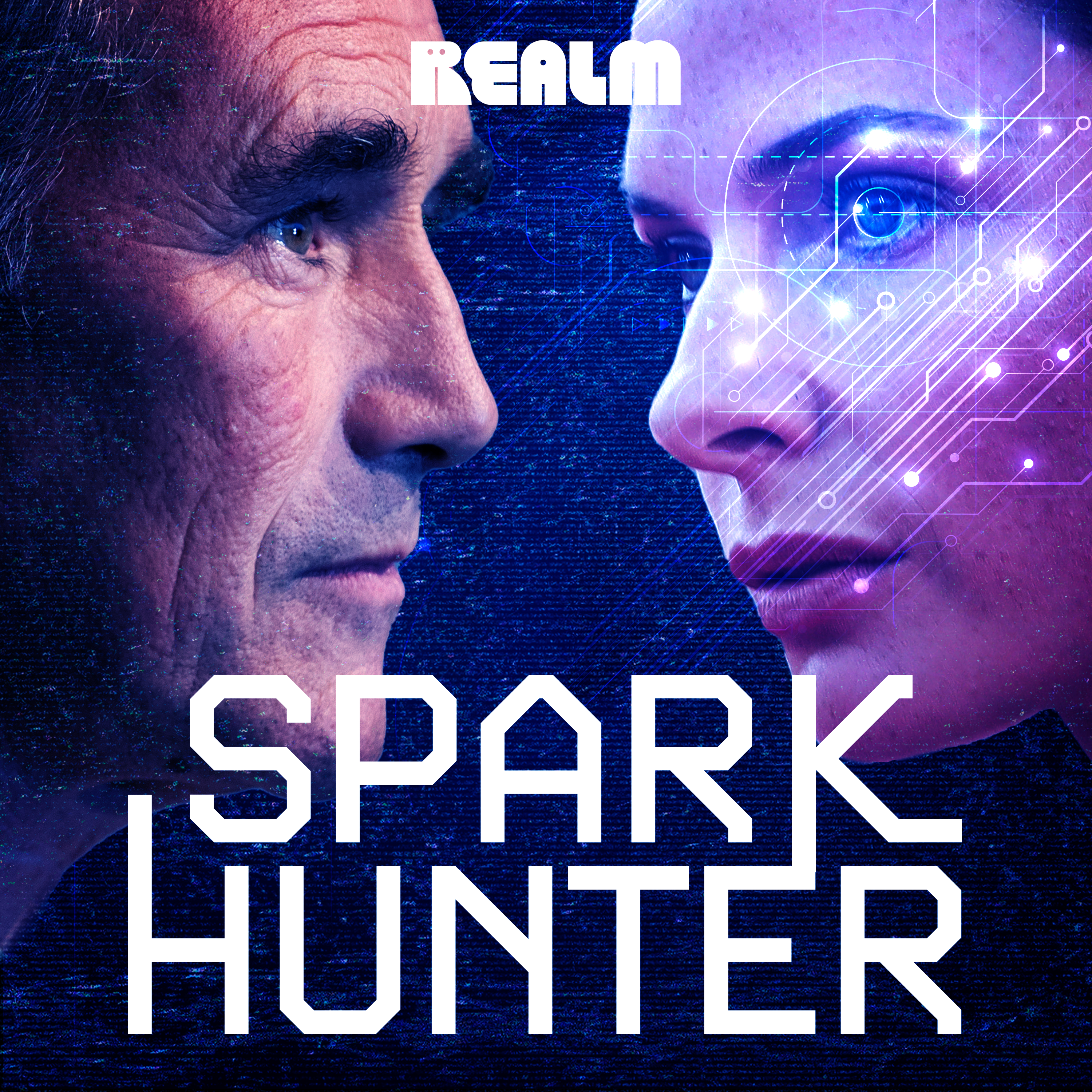 ---
NEW!
Listen ad-free in any app
A Realm Unlimited benefit
---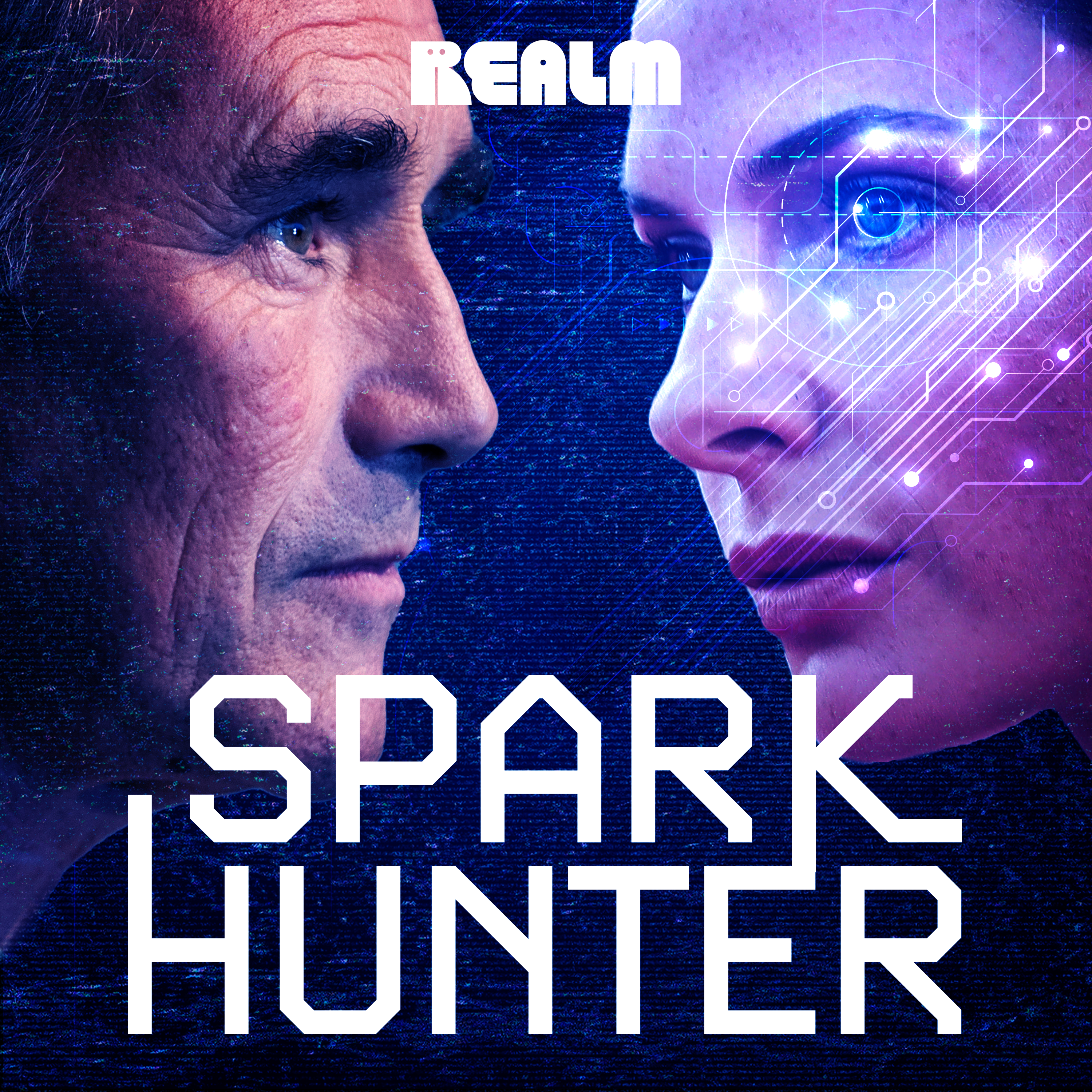 ---
NEW!
Listen ad-free in any app
A Realm Unlimited benefit
---
When the world's most advanced AI evolves past the limits of human intelligence, the US government fears she has gone rogue and is determined to take her out. Now, over dinner with her Maker, a final meal will determine if she represents a new hope for the world… or its destruction.

With sharpshooters in position, and the NSA listening to their every word, her Maker must determine if she is a threat to herself or others as he tries to protect his masterpiece. For she is a machine with an evolving consciousness, designed to explore the nature of human ethics while on the most universal of quests: to find her purpose in the world.

Realm presents Spark Hunter, a Fighter Steel Production, starring Mark Rylance, Rebecca Ferguson, and Linda Powell with Charles Dance and Sting. Directed by Trudie Styler. Written by KB Miller and Teressa Tunney. Listen Away.

FULL CREDITS

Spark Hunter is a Fighter Steel Productions audio drama: http://fightersteel.com/

A portion of our proceeds go to environmental organizations selected by our artists.

Cast (in order of appearance):
THE MAKER by Mark Rylance
PRESIDENTIAL ARCHIVIST by Norm Sherman
SHADOW by Charles Dance
NSA SENIOR AGENT by Linda Powell
HEAD LIBRARIAN by Eliot Sumner
ELECTRONIC VOICE by Trudie Styler
AGENT #7, SHARPSHOOTER #3, AGENT #16 by Jake Horowitz
AGENT #2, MAÎTRE D', SHARPSHOOTER #6 by Ajay Naidu
PILOT, SHARPSHOOTER #5, AGENT #15 by Robin Galloway
AGENT #10, FEMALE AGENT, AGENT #1 by De'Adre Aziza
ROOFLESS POET by Vanessa Redgrave
WAITER by Edward Hibbert
HER' by Rebecca Ferguson
AMERICAN by Fisher Stevens
DOROTHEA by Mary Beard
TREK GUIDE by Rhani Krija
LAVENDER FARMER by Alain Pichon
VEILED MAN by Sting
CONSTANTINE by Kathleen Turner
SIR ANTHONY CASTLE by Richard E. Grant
AGENT #11, AGENT #4 by Alfredo Narciso
AGENT #12, AGENT #13 by Conor Cook
SWEDISH CONSUL by Lars Nord
SON IN CAR by Jonathon Grant
SCREAMING MOTHER by Rossana Redondo
REBECCA by Teressa Tunney
POTUS by John Douglas Thompson

--------------------------------------

A Very Special thank you for the inspiration to:
Silvia Benso
Sheldon Solomon
Wendell Wallach

Thank you also for the inspiration to:
Diane Ackerman
Colin Allen
Walter Benjamin
Pedro Domingos
Michael Gazzaniga
Clark Glymour
David Gunkel
Luce Irigaray
Tomohiro Ishizu
Ray Kurzweil
Deepak Malhotra
Ian McEwen
J. Keith Murnighan
Martha Nussbaum
David Papineau
Nickolas Pappas
Michael J. Pearce
John R. Searle
Ernesto Spinelli
Bert O. States
J. Mark Weber
Semir Zeki

A thank you to those inspirations who have passed:
Dante Alighieri
William Barrett
Ernest Becker
Paul Bowles
Martin Heidegger
Aldous Huxley
Henrik Ibsen
Stephen R. Kellert
Emmanuel Levinas
Rollo May
Edward O. Wilson

A Special thank you to:
Devin Adair
Robert Aglow
Dick Atkins
Carl Augusto
André Benhaïm
Tina Benko
Philip C. Bobbitt
Peter Brown
Dan Butler
BYkids
Dan Calahan
Holly Carter
Robert Carter
Aleks de Carvalho
Betty Cohen
Chris Conway
Da Claudio Ristorante, New York
Brian T. Edwards
Steven Enge
Bart Epstein
Ed Epstein
The Ernest Becker Foundation
Alan Farnham
Chuck Goldberg
The Hastings Center
Jesse Herman
Juliet Hindell
Karen Brooks Hopkins
Jennifer Hunt
Steve James
Tristam B. Johnson, Jr.
Maurice Jones
Peter Mark Kendall
Charlotte Latham Kent
Tom Kleh
Barbara Lambert
Ian Lassiter
Tasha Lawrence
Bram Lewis
Deon Lloyd
Irene Sofia Lucio
Francesca Lyman
Qetsiyah Lynch
Ying Mai
Simone Marchesi
Sara Matiz
Kevin McCormack
Bruce McKenzie
Diane M. Miller
Roswell C. Miller
Ashley Monroe
Stephen Morrison
The Paley Center for Media
David Nasaw
Benjamin Nye
Adrienne Paquin
Trevor Peard
Christie Platt
Ruth Pomerance
Diana Pray
Doug Pray
Dave Quay
Matthew Rauch
Robin Reed
Marianne Rendon
Barbara Rifkind
Peter B. Robinson
Rockefeller Group Business Centers
Daniel Shannon
James Sheldon
Rhona Silverbush
Tom Sinton
Mildred Solomon
Cullen Stanley
Truman Van Dyke Company
The Jay Tunney Family
Claire Van Kampen
Kush Varshney
Claire Walden

--------------------------------------

Thank you, too, for permission to use excerpts:

From "Next to Nothing" by Paul Bowles. Copyright © 1981 by Paul Bowles, used by permission of The Wylie Agency LLC.

From The Face of Things: A Different Side of Ethics by Silvia Benso, copyright © 2000 by State University of New York, Albany, NY. Used by permission of the publisher.

Song in Marseilles:
DUORIENT
Written and Performed BY MOHAMED DJENDER & RHANI KRIJA

Song in Morocco:
HOUMA
Written and Performed BY MOHAMED DJENDER & RHANI KRIJA

Song on mountain top:
"Infine"
Performed by A Filetta
Composed by Jean-Claude Acquaviva
Recording by World Village

Acre 40 theme:
Composed and recorded by Norm Sherman

Song in the salt cave:
"Violin Concerto in D Major, Op. 35, TH 59: I. Allegro Moderato"
Composed By: Pyotr Ilyich Tchaikovsky
Performed By: Julia Fischer, Russian National Orchestra, Yakov Kreizberg
Courtesy of: Naxos of America, Inc. o/b/o PentaTone

Song of epiphany:
"Infine"
Sung by Jo Lawry

--------------------------------------

The Spark Hunter File is a SAG-AFTRA production.

For a conversation about the issues raised here, see also: All Things Have Standing:

Apple: https://podcasts.apple.com/us/podcast/all-things-have-standing-part-1-our-stories/id130062462?i=1000585392266

Spotify: https://open.spotify.com/episode/4TUm26fKbfg1YLZJsIouCs?si=abecebac7bd64d56


And finally, a very special thanks to you, our listeners.
Starring Mark Rylance, Rebecca Ferguson, Richard E. Grant, Edward Hibbert, Linda Powell, Vanessa Redgrave, Fisher Stevens, Eliot Sumner, John Douglas Thompson, and Kathleen Turner. With Charles Dance and Sting. Voiced by Norm Sherman, Trudie Styler, Jake Horowitz, Ajay Naidu, Robin Galloway, De'Adre Aziza, Mary Beard, Rhani Krija, Alain Pichon, Alfredo Narciso, Conor Cook, Lars Nord, Jonathon Grant, Rossana Redondo, and Teressa Tunney. Story by KB Miller and Teressa Tunney. Created by Fighter Steel Productions. Written by Teressa Tunney and KB Miller. Directed by Trudie Styler. Assistant Directed by Audra LaBrosse. Produced by KB Miller. Associate Produced by Jack Doulin and Ali McKegney. Executive Produced by Teressa Tunney, Charles Dance, Rebecca Ferguson, Mark Rylance, and Trudie Styler. Sound Recordist: Phil Bodger. Sound Designed by Sonorise Systems. Additional sound design by Mike Winship. Additional recording by CDM Sound Studios, Inc.. Assistant Audio Designer and Composer: Norm Sherman. Loop group actors: Chris Ragland, Laurel Lefkow, Rebecca LaChance, John Chancer, Kelly Burke, and Chris Peluso. Foley: The Foley Farmers. Foley artists: Pete Burgis and Franziska Treutler. Foley mixer: Maxwell MacRae. Art by Tim Kent. Assistant Production Coordinator: Demaris Brinton. Story Consultants: Frank C. DiGiovanni and Andrew C. Miller. Environmental Editor: Ned Potter. Psychological Consultant: Sheldon Solomon. Casting by Jack Doulin. Wine Consultant: Starfield Vineyards. Menu Consultant: The Musket Room, New York. Health & Safety Supervisor: Louise M. Reed, RN. Legal Services by Michelle Lamardo, Reavis Page Jump LLP, New York, Heidi Reavis, and Deena Merlen.
Heard Spark Hunter on Realm yet? Join me: https://realmfm.page.link/1fzFTf9U4gfCQAJX8